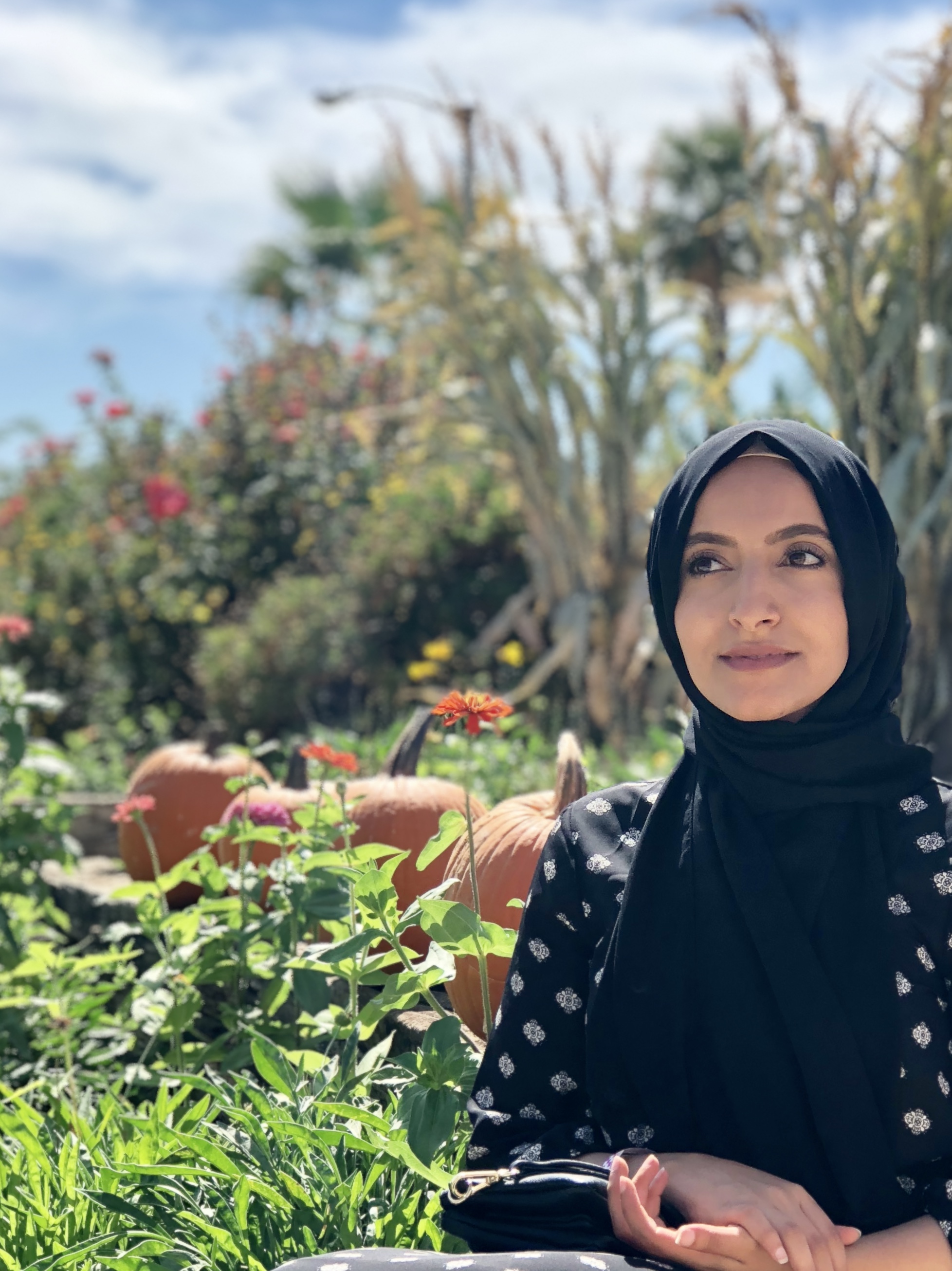 Noor was born in a small village in Yemen and raised in the Central Valley of California. As a Muslim woman and a child of two immigrant parents, Noor wants to debunk the stereotypes of Muslim women by giving them a voice. She hosts This Muslim Girl Podcast; a platform to share the stories of Muslim women of all backgrounds as well as her own. Noor shares her experience growing up in America as a Muslim woman, how she manages a full time job and her side hustle, and her advice for entrepreneurs.
I confessed to Noor that I didn't know that much about Muslim culture and more specifically, about her native country Yemen. That's what attracted me to her podcast because even though her audience is predominately Muslim women, it's beneficial for the rest of us to listen and to learn more. From our appearances, we look nothing alike and on a surface level, we might not have anything in common. BUT WE DO! We are both American women who are children of immigrants and who have podcasts providing a platform for women to share their stories. Even with our differences, we can find a common thread. Listen to this wild heart, Noor.
The Barking Muse was created out of pure necessity by Xiannie Peynado. When her Yorkie puppy Deuce was diagnosed with liver dysfunction disorder and skin dermatitis, Xiannie investigated alternative methods of treating her pup in a natural and holistic way. From her research, she created a unique blend of essential oils to treat her pup's skin. She also fed Deuce real food and not manufactured pet food which often contains chemicals. Thanks to Xiannie, Deuce is 5 years old, healthy and thriving today. Word got around about her natural pet products and Xiannie realized that there was a need for natural products for pets made by a pet mom. The Barking Muse is a stellar example of a woman with passion, grit and love for her pet.
I met Xiannie at a pitch competition at the Spanx headquarters in Atlanta, GA. Her company, the Barking Muse was selected to pitch in the final rounds. I had never pitched before but I learned a lot by watching Xiannie. She didn't have a powerpoint presentation or charts, she just told her story. Even though I don't have a dog, I felt the passion she had for helping pets and I believe in her brand. I talk to Xiannie about how she manages her full time job, her side hustle and her advice for entrepreneurs. Meet this wild heart, Xiannie.
Born in Toronto and taking her first steps in Slovenia, Alexandra is a world citizen. She discovered her love of travel through spending her Summers in Slovenia and using that as a home base to discover other destinations. At the age of 13, Alexandra was diagnosed with Crohn's disease (IBD) which led to multiple trips to the hospital, dramatic weight fluctuations, and a roller coaster ride of flares and symptoms. Her diagnosis did not stop her. In 2015, she started teaching in Germany and from there, found her current business partner and boyfriend Jonathan. Nowadays, she can be found running a Bed & Breakfast in Killarney Ireland, traveling 4 months of the year, building her personal brand, developing her app, The Official Killarney App, whilst launching 2 more business endeavors and most importantly, being in remission from her Crohn's. Alexandra is a family woman with a strong desire to succeed in life. What's her advice to entrepreneurs? "Don't let the fear of uncertainty hold you back."
I woke up one morning to a DM from Alexandra on my Instagram. She wanted to connect on our mutual love of travel and podcasts. I told her that we should take our online chat offline and record it for this podcast. Two hours later, we were speaking on Skype. Meet this wild heart, Alexandra
Helen believes that when you take control of your money, you take control of your life. She works full time as a financial planner advising people on how to manage their money so that they can live their best lives. Through her work, she realized that discussing money can often be difficult and uncomfortable because our society and culture have dictated money as a measure of success. However, people's stories say otherwise. On her podcast Made, Helen interviews women from all financial walks of life - entrepreneurs, single moms, divorced women, widows, and multi-millionaires. She shares these women's' stories about how they live, how they earn, and what it means to make it in life.
I found Helen on Instagram while searching for other podcasts hosted by women. I was immediately drawn to her because she's an Asian American women who is talking about money! Money is such an interesting topic and I'm getting more comfortable talking about it. We all have differing money mentalities but the truth of the matter is, we need to take control of it in order for us to live the life of our dreams. I talk to Helen about savvy financial moves to get us one step closer to handling money honey. We also talk about our experiences being Asian American. Meet this wild heart, Helen.
Ashley started her career in restaurant management in New York City. She left the industry after she realized the adverse effects the restaurant lifestyle was having on her well-being. She began immersing herself into the health and wellness space and got her holistic health coaching certification. As Ashley was healing her past wounds, she realized that it was much more than prescribing a diet or an exercise regime, it's looking deep within yourself. She began offering her clients the spiritual component of her coaching practice through reiki, chakra readings, Emotional Freedom Technique (EFT), aromatherapy and essential oils. She has rebranded her coaching business into a spiritual one.
I met Ashley during our Reiki I and II training at the Open Center in New York City. I was blown away by her honesty and vulnerability as she was sharing her story of trauma and abuse. She's using her experience in a positive way by helping others cope with their traumas and coach people to live their best lives through spirituality. Meet this wild heart, Ashley
Shauna is a holistic nutritionist and founder of Soul Wellness Method in Los Angeles. Soul Wellness Method is a nutrition and wellness concierge practice specializing in weight loss, clear skin and slow aging. Shauna's approach to nutrition and wellness has garnered her clients across the globe including high profile celebrities. She's been featured in Vogue, Pop Sugar, HuffPost, and Elite Daily. Her wellness retreat company, Soul Wellness Travels hosts all-inclusive retreats in beautiful destinations like Portugal where guests experience new cultures while focusing on well-being.
I immediately connected with Shauna on our mutual love for wellness, spirituality and travel. We had such a lovely conversation, we decided to speak again a 2nd time. Shauna talks about entrepreneurship, the importance of mindful eating and living. Meet this wild heart, Shauna.
Connect with Shauna:
She Loves:
Music by:
Christine Poupis (My college roomie)
Podcast Edited by:
Our friends at the Podcast Shop
Photos provided by Kumi Dream and Ashley Nelson
Ashley has every American girl's dream life; she works in PR, manages her own fashion and travel blog On the Ten, lives in New York City and attends the best events and parties. Ashley shares her story of how she went from corporate PR maven to going out on her own. She also shares that being an entrepreneur is not as glamorous as one might believe. However, living life on your own terms no matter where you are in life, is what a dream life is all about!
Ashley and I connected on Instagram because we are both in our thirties living in New York City. After 10 year long careers in our respective fields, we decided to branch off and do our own thing. Ashley and I talk about our past careers, entrepreneurship and how we survive social media. Meet this wild heart, Ashley.
Connect with Ashley:
On the Ten - Ashley's Blog
Networking:
Music by:
Christine Poupis (My college roomie)
Podcast Edited by:
Our friends at the Podcast Shop
Photos provided by Kumi Dream and Ashley Nelson
Marcella is partner at The Bananaland, your destination for unforgettable ideas, design, and development experiences. Her expertise includes 10+ years of branding, marketing, graphic design, and serial entrepreneurship. She is also co-founder of B:Hive Coworking, shared workspaces designed to help you get #$%! done. Her and her husband are proud Airbnb hosts, check out their bungalow Maid + Butler. Outside of all this, she is either a. being a mom to her 6 mos. old baby Zion and stepmom to 18-yr-old Noah and 15-yr-old Jasper b. championing women and moms c. spreading the love for Bridgeport and volunteering in her community d. working on side projects like The Seasides e. traveling and exploring interesting places.
I met Marcella while I was kayaking in the Hudson River in 2014. We instantly clicked during the trip but we didn't exchange our phone #'s or emails. She found me on Instagram through a hashtag I used #bannermancastle - funny right? She messaged me and asked me if I would like to meet her for dinner in the city. I was thrilled because they always say, you meet new people doing the things you love. We have been close friends ever since. Marcella and her Bananaland team have redesigned my blog Miss Buttercup and Kumi Dreams. She designed my logo for Chase Wild Hearts and continues to be my mentor and guide through entrepreneurship, women's empowerment, and navigating through life.
Marcella is my ultimate wild heart because I met her at a time when I didn't think any of my dreams could be a reality. Last year, before I came back to the USA from a long trip through Asia, I told her I didn't want to come back home to reality. She kicked me in the butt and said, "make a new reality." It was the tough love I needed to start this Podcast. Please meet my beautiful friend and wild heart, Marcella.
Rebecca began her career in fashion management in Milan, Italy. She thought she had her dream career and dream life until a family tragedy left her sad, broken, and lost. She started gaining weight and was in and out of medical doctors with various medical problems (acid reflux, IBS, PCOS etc.) Her physical ailments were a reflection of what she was going through emotionally. Rebecca was sad with a grieving heart and held a tremendous amount of anger. Her relationship to her family and friends were in shambles. This tumultuous time inspired her blog, The Blue Empath which launched her coaching program. Rebecca helps others face their own pain, anger, and heal wounds because ultimately, this is where you grow.
Through her own forgiveness journey, she found that forgiving the ones who hurt you is what ultimately will set you free. Rebecca is now known among her clients as the Forgiveness Guru. Her mission is to help others return to love through forgiveness and find themselves so that they can live their best life. She created an 8 step guide to forgiveness that's free! She guides you through each step towards forgiveness because it's all about using forgiveness to take you from fear-based thinking to love.
I met Rebecca at Gabby Bernstein's Spirit Junkie masterclass this past June while I was still going through my forgiveness journey. I thought it was divine intervention that she sat next me and my sister. I couldn't believe she was sharing her story that was so painful and vulnerable with thousands of women she didn't know. I had never put myself out there like that before. She inspired me to have the courage to share my forgiveness journey and it was really freaking scary! I literally feel like I jumped off a cliff of vulnerability and I'm swimming the rough seas by myself. It's not the happiest of topics but I wanted to share our stories with you because I ultimately believe, we cannot live our dreams lives without digging deeper and dealing with our sh*t. Listen and get to know this wild heart, Rebecca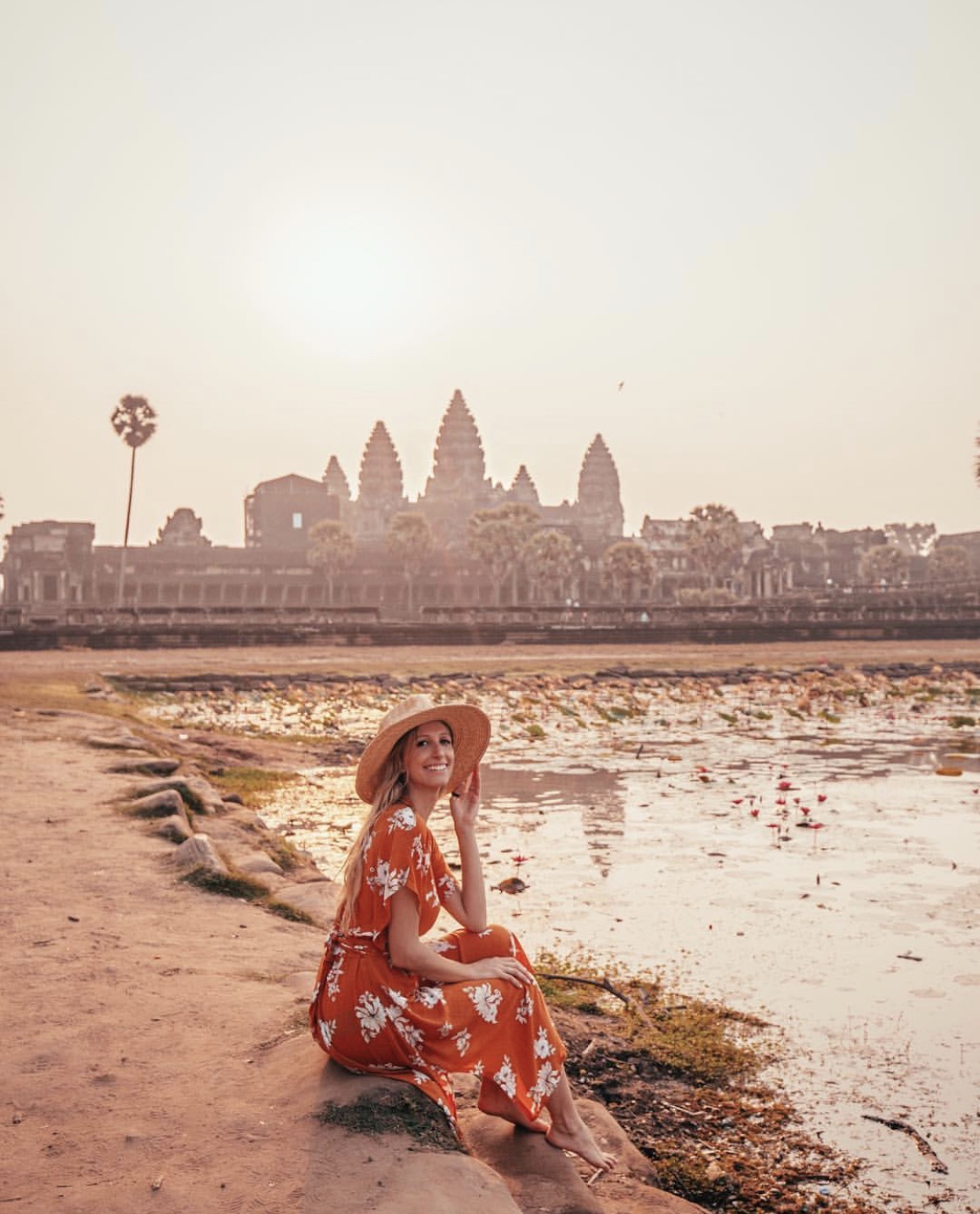 Tracy grew up in Canada with very supportive parents who exposed her to travel. She traveled to India at the age of 19 on a volunteer trip and had an epiphany that living in North America, we live very privileged lives. That sparked her passion for giving back. During her many travels, Tracy started building her own brand online by capturing content in beautiful destinations around the world. Many brands started gaining notice and asked Tracy to create content for their social media. Her entrepreneurial journey began.
As Tracy's social media presence grew, she was being asked by hundreds of women from around the world how she was able to sustain her travels while growing her business. With her innate love of sharing and helping people, she created Pangea Dreams. She created a community of creative and entrepreneurial women who wanted to follow their dream careers. On the retreats, she along with other industry experts, teach women the tools and skills they would need in this digital age e.g. photography, social media, marketing and etc. Basically, she's your career coach in a beautiful and exotic location!
As you will learn in this episode, Tracy has a passion for this planet, women's empowerment, inclusion, community and travel. I met her at the New York Times travel conference this past January and immediately connected with her on our mutual love of travel and spirituality. Tracy is just one of those humans who is genuinely a good person who wants to help women achieve their dream lives. Meet this wild heart, Tracy.
Connect with Tracy:
Music by:
Christine Poupis (My college roomie)
Podcast Edited by:
Our friends at the Podcast Shop
All photos provided by Tracy Komlos + Pangea Dreams
I could go on and on and tell you about how beautiful Michelle's travel blog Live Like It's the Weekend is, how beautiful her photographs are, her impressive 72k+ followers on instagram but the reason I love Michelle is for her vulnerability and her honesty with what is going on in her real life. I discovered her Instagram page last year when I too felt completely lost with my life (the Instagram post is below). I had never met this girl but I found myself sitting at home, crying and feeling very connected to her.
Six months later, I met Michelle at the New York Times travel conference. I literally ran up to her and expressed how much that post meant to me at the time. She showed me that it's better to be honest and real on social media than only showing beautiful and perfectly staged photos. That above all, people crave connection.
Michelle shares her story of how she quit her corporate job and started traveling around the world and getting paid for it. She also talks about how she's moving forward while honoring her parents. Listen now and get to know this wild heart, Michelle.
livelikeitsthewknd: "I've been avoiding writing this. In fact, it's probably the hardest post I'll ever have to write. But going about my happy travel photos without sharing what's really going on in my life right now wouldn't feel in line with my authentic self, or honest to you guys, so I'm just going to say it and get it out quick. Both my parents passed away from cancer...within the last 2 months.
If I could create a resume of my current life right now, it would read a little something like this: No home. No car. No boyfriend. No full-time job. And now no parents. The two people who were totally OK and even supportive of all those aforementioned nos.
Does it absolutely f*cking suck? Um, yes. Do I cry a lot these days? More than ever. And I'm a long ways away from fully processing what has happened. But guess what? I'm choosing to believe that there is a greater plan for why this is happening and that I'm going to be OK. Life is going to go on and it's going to be beautiful, because I have the choice to make it so. We all have that choice.
Things that I still have: My self worth, my brain, 2 legs to carry me all around the world. Not to mention an incredible support system of friends who have gone well beyond the call of duty to be there for me.
So why am I telling you all this? Well, because this is a real part of me, just as much as my love of travel is part of me. And while Instagram is an incredible creative outlet, it's also made it harder than ever to seek the truth of our human experiences when all we see is the highlight reel of each other's lives (guilty). I want you to know that if you're going through the loss of a loved one, I'm here to support you in any way that I can and I promise to be more open and real with you guys from here on out. I hope this community can be one that supports each other not just through the successes and epic travel moments, but through the hard times too. Love and light to you all."
Michelle's Favorites:
Podcasts:
Books:
Connect with Michelle:
Music by:
Christine Poupis (My college roomie)
Podcast Edited by:
Our friends at the Podcast Shop
All photos provided by Live Like it's the Weekend
Armed with her fashion industry experience combined with her love of travel and connection, Chrissie Lam founded Love is Project. In 2014, Chrissie was on a flight to Moscow and the LOVE bracelet inspired a conversation with two girls from Uzbekistan and Kyrgyzstan about love. She asked what love meant to them and recorded their answer on her phone. Upon landing in Moscow, she uploaded a photo of them wearing the bracelet to Instagram.
The response to the photo was overwhelmingly positive and so the Love is Project was born. Chrissie began her adventures around the world, asking couples and singles, grandparents and children, young and old, "What is love?" She got answers from 100 nationalities in 45 countries, from Mongolia to Palestine, Nepal to Bali and everywhere in between. What started as a personal passion project began to blossom into a global movement of love. During such divisive times, social media and the conversation of LOVE was connecting people from around the world. What people craved was connection.
The Love is Project bracelets are crafted by women from all over the world like Kenya, India, Indonesia, and Guatemala just to name a few. Proceeds from sales benefit local artisans and go towards education, trainings, heath and community development along with helping fund other micro businesses in each country.
I met Chrissie at a Love is Project "Summer of Love" photoshoot in Bali 2017. Listen to this wild heart, Chrissie!
Connect with Chrissie:
Music by:
Christine Poupis (My college roomie)
Podcast Edited by:
Our friends at the Podcast Shop
All photos provided by Love is Project
Born in California and raised in Minnesota, Jordyn's aspirations in a journalism career brought her to New York City. From being a fit model to working with the Yacht Week, Jordyn's innate ability in leveraging her skills have led her to working with some of the world's most renowned brands. A personal setback became a catalyst that fueled her love to travel and led her to write her travel blog, The Blonde Vagabond. Her blog features wanderlust-worthy photography and clever writing that entices her readers to truly experience a destination. Jordyn shares how she made a career out of fusing her passions of travel, writing, and sharing her experiences with the world. She may look like a blonde bombshell but what most people don't know about her is she's incredibly funny. Listen to this Wild Heart, Jordyn Kraemer!
Connect with Jordyn:
www.theblondevagabond.com
Music by:
Christine Poupis (My college roomie)
Podcast Edited by:
Our friends at the Podcast Shop